Join Our Mailing List (enter your email address)
Writing
From Home
The Write-From-Home Fantasy

Quit the rat race.

Spend quality time on your writing.

Finish the great American novel.


Your Work-From-Home Reality

You have a fabulous idea for an internet company.

(Or else, you don't have a fabulous idea for a website, but you just know you want to have more time at home to dedicate to your writing.)

Your boss is a total jerk, idiot, stupid-head.

You can't wait to say "I Quit."

You've spent hundreds, maybe even thousands, of dollars on internet qet-rich plans, home-based career catalogs, and lists of companies seeking "envelope stuffers," and yet somehow you're still working for the above-mentioned stupid-head.


Monica's Reality

ALL of the above. (Especially the stupid-head boss)

Before I started my successful website for writers, OnceWritten.com, I spent over $2,000 (ugh, I still want to throw up when I think about it) on internet start-up booklets, ideas and "systems."

I wasn't even looking for get-rich-quick plans, but somehow my money kept flowing out and yet NOTHING was coming back in.

While I didn't have the faintest idea what Search Engine Optimization was, I did know that I wanted to start a website resource for new and emerging authors.

Fortunately, I stumbled on a company called SiteSell that taught me everything I know about internet marketing and running a successful online business.



Not Another
Sales Pitch
Send Me No Money

It occurs to me that this page is turning into one of those sales-pitch-type, horrible web pages that I absolutely despise. You know the ones, that just scream "Send me your money."

And I apologize for that. As a fellow writer, I hope you'll forgive me, but you know how we like to go on and on, when we write about subject matter that's really important to us.

Just so we're clear, I'm not asking you for any money.

I just want you to share with you the same information that helped me get started in building my online business.



Work at Home
Work at Home, like Monica

The people at SiteSell have developed a Free E-Course, known as WAHM-IT! The Master's Course, which was written by four work-at-home moms who've developed home-businesses that fit naturally with their family needs.

Not being a mom, I think the title is kind of dumb, so I am affectionately referring to it as "Work at Home, like Monica."

But hey, family, writing. In the end we're all looking to free up more personal time in our schedules.


Create Your Own Website

Whether or not you're a mom, you can take these ladies' examples, and learn how you can create your own information-rich Web site based on something you know and love. No technical knowledge or prior experience is necessary. You CAN build a real, long-term business on the Net.

Learn from the real-life experiences and advice of Elizabeth, Cate, Jennifer and Erin. These moms have taken the time to tell you everything, from reviewing all your options and organizing properly. And they progress all the way to the final desired outcome, including the nitty-gritty of how to actually build a substantial income online, illustrating with well-explained case studies.

An online business is affordable, flexible, and convenient. You can work at your Web site and business when you like, at the speed that suits you, and still have time, ever day, to work on your novel.



WAHM IT!
WAHM IT! The Masters Course
The most amazing part about this course for writers?
It's free!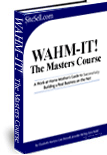 Click here to download WAHM- IT!, The Masters Course" e-book.
1.33 MB - Windows and MacOs
You are about to download a zipped file ("wahm-masters.zip"). Save it to your desktop. After you have downloaded, unzip it.
Windows users need WinZip -- free trial
Mac users need Stuffit Expander (v5.5 or greater) -- free software
This will unzip a folder called "WAHM-IT" on your desktop (if you do not change the default location). The folder contains four files...
1) ReadMeFirst.txt
-- This file will get you off to a flying start. Begin here!
2) wahm-guide.pdf
-- "WAHM-IT!, The Masters Course" provides all the how-to information you need to successfully build a real business on the Net.
3) wahm-case-studies.pdf
-- The "Case Studies" volume shares the inspiring stories of real-life SBI! WAHMs and their Web sites.
4) wahm-get-organized.pdf
-- "Get Organized to Work at Home" offers tips on managing your household and family successfully while you work.
Find out how to use the Net, the right process, and the right tools to achieve the kind of "work payback" that you have been dreaming about...
Free up the time to write, generate long-term income (that could very well become your primary income), fuel your own creativity and passion, and of course, have fun!
Take a few minutes for yourself and read WAHM-IT!, The Masters Course today.
Discover your best work-at-home solution!
Final Thoughts
Final Thoughts

This is NOT a get-rich quick plan or scheme. Do not expect to pull in your first "10,000 week" any time soon.

What it is, is a sensible plan for creating a viable business (with the requisite energy and commitment required to run any business) that meets your schedule, knowledge and needs.

Have questions? Feel free to email me at the contact information listed below.



Need Help?
Contact OnceWritten.com

If you have questions, need more information, would like to query us, or would just like to confirm that there actually is a live, responsive person on the other side of this website, send an e-mail to:

Send this Page
to a Friend
Help Spread the Word
Want to foward the information on this page to a friend? Click the
Write From Home
page link now for an easy way to e-mail your friends a link back to this page.
(Please note this link opens in a new window, so please make sure your pop-up blocker is deactivated.)